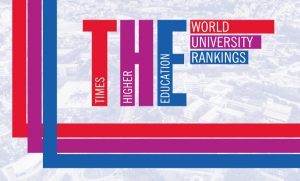 The Universidade Federal de Santa Catarina (UFSC) is among the eight best Higher Education Institutions in Brazil, according to the Times Higher Education (THE) international ranking, published on 2 September.  This is considered one of the main university rankings in the world.
UFSC is ranked in the 601-800 band in the overall ranking and, in comparison to last year's edition, it has maintained its position in all aspects. Five other Brazilian universities are ranked in the same band ‒ Universidade Federal de Minas Gerais (UFMG), Universidade Federal do Rio de Janeiro (UFRJ), Universidade Federal de São Paulo (Unifesp), Universidade Federal de Sergipe (UFS) and the Pontifícia Universidade Católica do Rio de Janeiro (PUC-Rio). In the first and second position among Brazilian universities are, respectively, the Universidade de São Paulo (USP), ranked 201-250, and the Universidade de Campinas (Unicamp), ranked 401-500.
Although the universities are ranked in bands after the 200th position, the Secretary for International Relations at UFSC, Lincoln Paulo Fernandes, explains that the results, when analyzed, place UFSC as the fifth best higher education institution in the country, and the third best among federal universities. "In 2016, we started to analyze the methodologies and the indicators of these university ranking systems and we observed that there are specific criteria for each of these rankings. In regard to the THE ranking, analyzing the results of 2021, we could see that, among the federal universities, UFSC is only behind UFRGS and UFMG. The first two are state universities of São Paulo. So we are very happy to say that, according to this ranking, UFSC is the third best federal university in Brazil", highlights Fernandes.
The ranking evaluated more than 1,500 universities from 93 countries. It is based on 13 indicators that measure an institution's performance across four areas: teaching, research, knowledge transfer and international outlook. The University of Oxford, in England, was ranked the best university in the world for the fifth consecutive year.
Translated by SINTER/UFSC
Read the original article here.